Discovery and Context
In 1996 a series of mosaic floors was accidentally uncovered during highway construction in the modern Israeli town of Lod, 15 Km (9 miles) from Tel Aviv.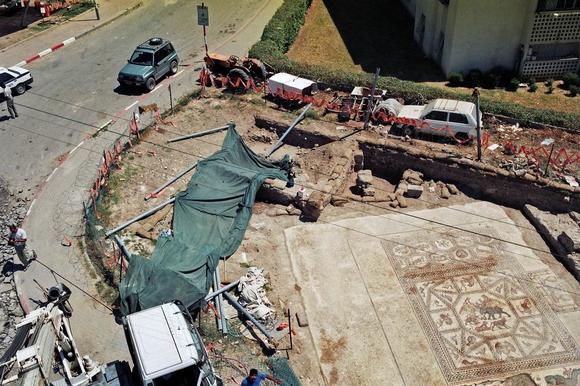 Lod is ancient Lydda, which was destroyed by the Romans in A.D. 66 during the Jewish War. Refounded by Hadrian as Diospolis, Lydda was awarded the rank of a Roman colony under Septimius Severus in A.D. 200. It remained in Roman hands until becoming a Christian city and eventually succumbing to Arab conquerors in A.D. 636. The discovery immediately prompted a rescue excavation, undertaken by the Israel Antiquities Authority, which revealed a series of mosaic floors that measured approximately seventeen meters long by nine meters wide (fifty by twenty-seven feet). Debris covering the floors contained pottery and coins of the third and fourth centuries A.D., suggesting that the mosaics were laid in about A.D. 300. The large rooms in which the mosaics were found probably belonged to a private house and served as a series of reception or audience halls where visitors were met and entertained. The mud-brick walls, once covered with frescoes, had collapsed and preserved the mosaics. The plan of the entire complex has yet to be determined as excavations are ongoing and have revealed yet more mosaic floors during the winter of 2009/10.
Many Roman mosaics have been found in Israel, but the discovery at Lod has attracted considerable attention because the mosaics are of exceptional quality and in an excellent state of preservation. The three best-preserved and most interesting panels have been selected for the loan exhibition that is to tour America during the next couple of years while a permanent display venue is constructed at Lod. In 2009 a major gift from Shelby White and the Leon Levy Foundation was made to enable the Israel Antiquities Authority to conserve the mosaic and establish the Shelby White and Leon Levy Lod Mosaic Archaeological Center.
The Lod Mosaic: From Excavation to Exhibition
The Lod Mosaic Floor and Its Menagerie: Roman Influence on Local Mosaic Art